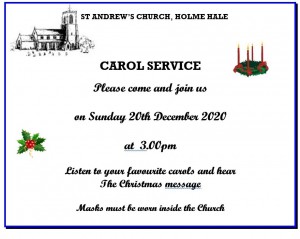 Christmas Day Service:          
Friday 25th December at 10.30am …….. (N.B. NOT the usual 11.15am)
Social distancing measures will be in place as always.  Your safety is our priority.
December 1, 2020 Comments Off
Remembrance Sunday
In line with government guidelines, a short act of remembrance will take place at the war memorial outside the Church at 10.50 am on Sunday 8th November
Social distancing guidelines will be in place.
We look forward to seeing you on Sunday.
November 3, 2020 Comments Off
Due to the revised government guidelines which take effect from Thursday 5th November 2020
The Remembrance service at St Andrews Church will sadly not take place this year. 
October 28, 2020 Comments Off
From Sunday 21st June 2020 we will be open every Sunday between 10.00 am and 4.00 pm for private worship.
For your safety and the safety of others we ask that you abide by the notices inside the church regarding the use of bibles and social distancing rules
We ask that you sanitise your hands before entering the church and again when you leave.
Thank you
June 21, 2020 Comments Off
Good morning everyone.
Please find below the link for this morning's online service which contains the second sermon in our current series on St Paul's letter to the Philippians.
God bless, best wishes and keep safe.
Stephen
June 21, 2020 Comments Off
May 10, 2020 Comments Off
We regret to inform you that all public worship has been suspended for the time and the Church building has been closed.  Weekly services will be pre-recorded and posted on the website for you to access.  In these difficult times, keep safe and God bless.
March 29, 2020 Comments Off
Service for Palm Sunday
Here's the link for this morning's service. Many thanks to those involved and to Ray who put it together.
Have a good day & keep safe,
God bless
Stephen
Stephen Thorp
Rural Dean of Breckland
Rector of Necton, Holme Hale, North & South Pickenham with Houghton on the Hill
slthorp@outlook.com            @slthorp https://slthorp.wordpress.com
Service (29th March 2020)
Please find below the YouTube link for this morning's service, pre-recorded at St Andrew's Holme Hale. I hope you  enjoy it, find it useful and think it 'a good effort'.
Having watched the service, if you would like to read the text to my sermon you can find it on my blogg at:
https://slthorp.wordpress.com/the-raising-of-lazarus/
Sadly as I explain in the video due to the restrictions, this will be the last time that I can record a service within a church building. There will be a service next week but 'hosted' differently. Please keep an eye out for further news, the contact link and join us if you can.
These are uncertain times, but I do hope you are well, keeping safe and looking after one another.
Best wishes and God bless.
Stephen Thorp
Rural Dean of Breckland
Rector of Necton, Holme Hale, North & South Pickenham with Houghton on the Hill
slthorp@outlook.com            @slthorp https://slthorp.wordpress.com
March 29, 2020 Comments Off